Skin Packaging Machine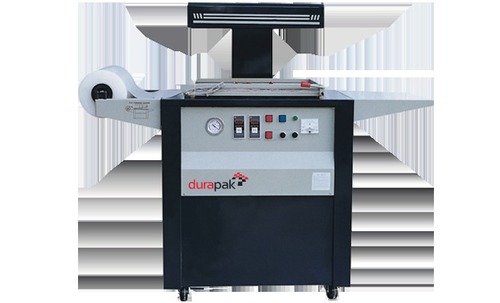 Skin Packaging Machine
Product Description
The
Skin Packing Machines
have been designed and engineered for efficient and trouble free operation. With their protruded film frames and film roll bearers, the DTB is fit for front loading. A counterbalanced infrared reflector oven with industrialized tube-shaped elements give the quickest film heating cycle accessible.
The frame cycles and film heating are mechanically controlled by the solid state timers, which are adaptable to incisively match the skin card, product, and film essentials for best results. Non-automatic overrides for the automated cycle allow the flexibility for short runs, samples and blending products of varied heights.
The apparatuses are exactly engineered for standing firm in rugged, continuous production usages with a minimal of maintenance. The DTB is a first-rate choice for cost effectiveness as well as energy efficiency. Years of engineering improvements and production have granted the equipment a reputation for dependability, quality operation and durability.
Skin Packaging Machine Features:
Show packing units on to card for point of sale show with advanced clarity Surlyn film.
Can be utilized for transit skin packing making the use of corrugated boards as well as polythene based skin film.
Boards can be non-automatically cut to size by using knife.
Instance skin packs can be made by using your products.
Appropriate for use with Eco-friendly Peel Away peel-able skin pack board.


Skin Packaging Machine Specification:

| | | |
| --- | --- | --- |
| Model | DTB-390 | DTB-540 |
| Power Supply | 380V,50/60Hz,3PH,7.5Kw | 380V,50/60Hz,3PH,12Kw |
| Working surface | 390 X 540mm | 540 X 780mm |
| Packing speed | 50 ~ 60h | 50 ~ 60h |
| Widths of film | 450mm | 600mm |
| Machine Size (LXWXH) | 15006001350mm | 17407501350mm |
| Net Weight | 135Kg | 195Kg |